FitSeat Standing Desk | Rollable, Height-adjustable Standing Desk
FitSeat Standing Desk | Rollable, Height-adjustable Standing Desk
FitSeat Standing Desk | Rollable, Height-adjustable Standing Desk
Buy our rollable standing desk, bring a healthy dynamic and a comfortable mobility to your everyday working life and is a perfect addition to your FitSeat.
Benefits:
Due to its mobility, you are no longer tied to just one location, but you can work wherever you like. The standing desk is a loyal companion for various activities, both at work and at home and also improves your well-being and enhances your creativity. Because your brain works 5-20% faster while standing. The regular change of posture gets your circulation going, better supplying your body with blood.
Product features:
The standing desk meets all the ergonomic requirements of a mobile standing workstation and adapts perfectly to you.
The incline of the desk top can be easily adjusted from 0° to 70° in 7 settings
Dimensions of the desk top: 74 x 61,5 cm,
Incl. 4 retractable template holders in frame color
Comfortable desk height adjustment by gas lift, continuous from 95-142 cm
Lockable easy-running castors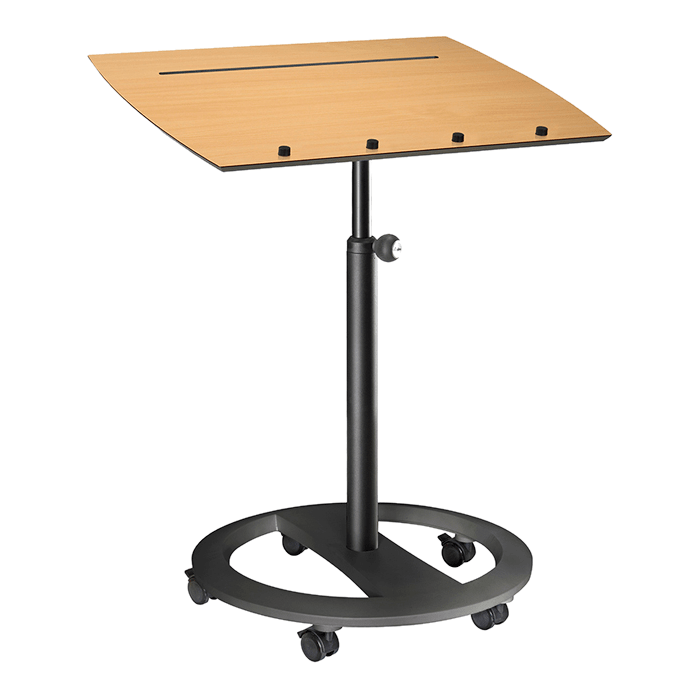 Additional information
| | |
| --- | --- |
| Weight | 15 kg |
| Desktop | BlackPanther, PureNature, WhiteLotus |